Get a FREE Business Listing for Puyallup. Free sign-ups are available to local non-profits and businesses as a bonus for making it through the pandemic. Let's get everyone back on track. Let us know that you want to be in the Puyallup directory, and provide your URL and up to fifty words describing your organization or business. Send your information to trainingmedia@yahoo.com - subject "FREE Listing in the Puyallup Directory" - Let's get the economy humming!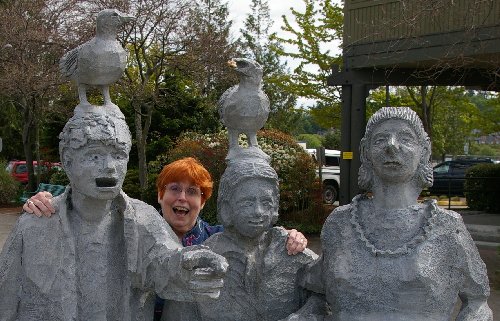 Northwest Adventures is a website exploring the Pacific Northwest. "We enjoy meeting people and we expect to have a wonderful time when we travel. Our expectations are almost always met. If you have a favorite restaurant or a favorite hotel, where they offer exceptional service, please, share your favorites with us. Or if you have a B&B, hotel, or restaurant that you would like us to try and then include in our stories tell about what you have. No matter what, enjoy, and please share your thoughts." - trainingmedia@yahoo.com

Pielak Plumbing offers complete residential and commercial sewer services throughout the Tacoma, Lakewood, Puyallup, University Place, Puget Sound area. If you're having problems with your sewer line or other drainage difficulties, then you should call Pielak Plumbing at 253-227-0084.
Sewer Line Experts - Trenchless Plumbing & Pipe Bursting Puyallup

Tacoma Theatre Today has information on Pierce County's (and more) main live theater production houses . . . and more. If you enjoy excellent live theater, then visit the site to see what your live entertainment choices are. Their coverage reaches from South King County to Thurston County.
Share Investments - Office Space and Storage - Share Investments LLC has been doing business sense 1998 and is a highly successful property management company renting properties to some of our area's premier companies.


The Pine Street Complex in Nalley Valley, just off South Tacoma Way, offers numerous configurations for multiple businesses. The entire site could accommodate offices, storage, work space, parking, and more. Freeway access is only a quarter of a mile away. Tacoma, University Place, Fircrest, and Lakewood are all nearby.


















Eyecandy Optical - Eye Candy Optical & Myopia Control & Treatment Center - Uptown Gig Harbor's FUNKIEST Eye Doctor - Myopia Control Specialist & Boutique Eye Glasses Shop. 5-Star Google Review


"Excellent service. Great assortment of styles. Some wildly fun & others sensible makes you want to buy 2 pair! Fast turn around too. Highly recommend!" Sweet Treats For Your Eyes. We're passionate about helping you see and look your very best. We are a full-service optometrist & boutique eye glasses shop offering a fun, inviting, & unique experience. Our experienced staff will work with you one on one to find the perfect pair of frames that highlight your style & personality. We only source independent designer brands that prioritize comfort, style, and durability.

Boring frames be gone. Find your new eye candy today!


















Landscape Titan - The Pacific Northwest is a beautiful place to live. We work with reality and customise it to to meet your needs. We want you to have your own landscape created with the shrubs and trees, and flowers you love. We can build walkways, and quiet, comtiplative areas for your enjoyment. We help with the ideas and do the hard work. We give you back your time for the more important aspects of home enjoyment.


We specialize in landscaping for Puyallup, South Hill, Orting, Sumner, and Bonney Lake.

Keeping your property at its best means pruning, planting, mulching, fencing, creating water features, and just the right setting for enjoying life. Let us take the work, stress, and hassle off your shoulders. We just ask that you share your dreams with us. Together we can achieve reality. Please, call or text - 253-324-4034












Two Tone Powersports - Make your Ride Experience the best. We are a family ran and operated Service Shop. We provide FREE ESTIMATES on all major brands such as Honda, Yamaha, Kawasaki, Suzuki and Harley Davidson of ANY year! From Service, performance enhancements to engine rebuilds we do it all! Don't wait until last minute. At Two Tone Powersports we also offer items for sale on Consignment. Whether you're looking to sell or to buy a Dirt Bike, ATV, UTV or Motorcycle get in touch and we're happy to help!


Servicing motorcycles, scooters, and ATVs in the Puyallup, South Hill, Parkland, Spanaway area.

With the price of gas going up, now is a great time to have a motorcycle. They're not only fun to drive, but can save you money at the gas pump. A well tuned motorcycle can save you even more. Contact us today for more information.












Hall's Hauling - Dumpsters - Cleaning out the house? Getting rid of your hoarding supplies? Doing some home remodeling? Are you building and need to remove construction debris? Is yard waste starting to mount up? Brush removal? Has you garage gone well beyond storage leaning no room for your car? Chippings and clippings from pruning ruining your landscape? The solution could be Hall's Hauling. For over twenty years Hall's has been the local picker-upper champion! Very Affordable with all size boxes $330 for drop off and pick up, with additional fee for outside service area.












Confessions of a Camp Counselor - As a youngster, Bailee Doman attended Flathead Lutheran Bible Camp on Flathead Lake, just north of Missoula, Montana. She also worked there for two summers in college. Growing up, being a camp counselor was always one of her dreams. She loved the area so much she attended the University of Montana, after graduating from Puyallup High School, and is finishing up her degree in Recreation Management. She has a podcast, Confessions of a Camp Counselor, where she interviews camp counselors from a bunch of different camps all across the country. Bailee asks people, "Have you ever wondered what it's like working at a summer camp? Are you thinking about working at a camp? Well then tune in and listen up, because we have the inside scoop on what it's really like being a counselor. If you want to pick the brain of a counselor, then let's dive in." - Read the article . . . read the blog, and listen to the podcasts.












ABNB Puyallup Apartment - Close to EVERYTHING. This 1200 sq ft apartment is in the heart of downtown in a historic landmark building built in 1903. It has all the updated comforts of home, while you get to enjoy the city life. You have your own family space complete with a living area to cozy up on the couch watching a 50" HD Smart TV, a great dining space to enjoy a meal ordered in or what you whipped up yourself in the kitchen (we provide many food items for your convenience), or sleep-in resting in the comfy beds!


This apartment is designed as a home away from home. The kitchen is well stocked and there is a friendly dining area as well. Coffee, breakfast, lunch and dinner at home or visit the friendly merchants in the area. Prices in friendly Puyallup are very affordable.












St Vincent de Paul - St. Vincent has money saving thrift stores in both Tacoma and Puyallup. You can also donate to the good cause which helps our Pierce County communities. You can also donate your vehicle. There are several ways this can be done. There is a Free downloadable IRS ebook on the website for details. "The list of services of the Society of St. Vincent de Paul in the United States is endless. No work of charity is foreign to the Society. To quote our patron, St. Vincent de Paul: Charity is infinitely inventive." Call their office 253-474-0519 for immediate service!. They have emergency programs that help people with free gift cards, gas cards, and can assist with utilities and rent for residents in Pierce County. Please, donate if you can.












Pierce County Back Country Horsemen of Washington - We enjoy both hard work and a good time. We maintain horse trails and preserve nature. We hold classes on packing mules and horses and ride the trails and enjoy the solitude of the hills and forests of the Pacific Northwest. When we go out on the trails we haul gravel, improve trails by clearing fallen trees, and repairing what we can. When we get back to camp, meet for a clinic, or just plain get togethere, we like to have fun.


Please, visit our website and consider joining us for fun and hard work as well. You'll see pages for our calendar and our gallery of image of us working and having fun.












Meridian Cafe - Downtown Puyallup Restaurant Review - Looking down the street I saw an "OPEN" neon sign where I didn't expect it. Auntee B's was one of my favorite places for breakfast in Puyallup, but I was pretty sure they had closed. I wove my way through traffic waiting for the train grate to open and looked into the Meridian Cafe. There were three people in one booth in a room that could probably accommodate fifty or more. I walked through and sat down at a four-top about ten feet from the back door. Jessica was immediately at my table. Soon I had coffee (Dark roast Dillano's coffee) and a menu. A few minutes later I knew what I was going to order. Not really caring about biscuits (rarely any good at most restaurants) I ordered biscuits and gravy with "burnt, burnt, burnt" hash browns. I chose sausage links for my meat and eggs over-easy. As I recall Auntie B's had decent biscuits, a major plus in my book. "We've brought back the Meridian Cafe in a big way - new kitchen and dining room, large banquet area and even new bathrooms! The only thing that hasn't changed is the homemade goodness!"












Nth Degree CPAs - What if you had a financial expert helping you optimize your business and family financial situation all year long? Would your business be more profitable? Would you have fewer late nights? Would you feel a greater sense of control? Would you have more time to focus on other areas of your business? Would you reach your goals faster? Nth Degree CPAs, can help. READY TO GET STARTED? GET IN TOUCH TODAY! Call 206-682-0281.












Puyallup Commercial Real Estate Appraisals - From evaluating estate property to raw land for commercial development, we can help with appraising as well as services for Market Analysis, Property Marketability, Feasibility and Highest and Best Use. We provide Washington State with expert commercial property appraisal services. We have an excellent history of long-time commercial appraisals across the state. We offer quality work and excellent prices with quick turn around times. Give us a call at 253-564-1342 or visit our website for more information.












Microblading is the art of drawing the shape and color of an eyebrow. Each stroke is a tiny slice. For me it would fill in the blank where my actual eyebrow hairs stopped growing. Read the article Microblading - Drawing and Shaping Beautiful Eyebrows
Caitlin of Everlasting Beauty Lounge says, "Microblading is kind of like tattooing, but using pigment instead of ink, giving the eyebrows a sharper look like individual hairs. The application is more like drawing than it is injecting. The Trompe l'oeil is a technique used in art that produces normal, realistic, beautiful eyebrows that look authentic." Call for an appointment or more information: 253-259-8160.
HVAC & Furnace Installation, Repair & Maintenance - From Edmonds, Eastside down to Tacoma area - What's Your Heating and Cooling Problem? Furnace Doctors Can Cure Them All! HVAC contractor, John Day and his Furnace Doctors, have been fixing heat pumps, furnaces and air conditioners for years. John says, "We've seen it all! We are a full -service heating and cooling company - there is NOTHING we cannot work on. We service, install and maintain all HVAC systems including all major brands of heating and cooling equipment."












New Visitors To Your Website Every Single Month - For a one time set-up fee of $150 and $150 per month we market your service/product website locally that delivers twice the number of potential customers over what you would have from Google AdWords. Why pay $3 or $4 per click on Google AdWords when you can get a bigger bang for your buck? The fees keep escalating on Google AdWords, but our monthly fee has stayed the same now for two years. We do everything for you: deliver great reviews, directory listings, search engine placement, online ads and banners . . . and much, much more. Call 253-759-6639.












Ahhh, here's the rub . . . Did you know that massage goes back nearly 200,000 years?. Read the published article Pain Massage and Relief - Thousands of years in the Learning. You'll also meed Lisa Zepeda, a personal trainer who has a small office in Tacoma. She offers Therapeutic massage services for athletes, injuries, self care, preventive maintenance, pregnancy massage, and Maya Abdominal Massage. She can be contacted at BellyMamaMassage@gmail.com or 253-237-4148. Massage Article from The Suburban Times
Reputation Management - Testimonial: "When we got two bad reviews in a row, we called for help. Within a week we were back on track. Thanks for the Reputation Management recovery. The positive reinforcement was fantastic." - W.L.G. - Save your busines . . . help is available! If your online reviews are hurting your business, you might need help. Get information, a free ebook on Reputation Management, and solutions to your problem Call 253-759-6639.












Editing is the process of pouring over books and articles and making them more understandable and free of errors and miscommication. Call Peggy of Will Write Well for Good Money at 253-759-6639. During the pandemic era many people have written of their experiences and their viewpoints. The editing process involves correction, condensation, organisation, and suggestions to help your creation more easily understandable. Peggy is the author of three published books as well as scripts and articles. Modifications are performed with an intention of producing a correct, consistent, accurate and complete piece of work for your audience AND to help you sell your work. The editing process starts with the author's vision and continues as collaboration between the author and the editor. Editing involves creative skills, human relations and a definite feeling for each individual writer's work. Peggy has edited hundreds of articles and dozens of books.
Tacoma Little Theatre - Tacoma Little Theatre has been at its present home in Tacoma's Stadium District for over fifty years. TLT was founded in 1918, placing it among the oldest community theatres that are in existence in the United States. TLT not only provides live entertainment, but also theatical education as well. TLT's Theatre classes help students of all ages to grow to their full potential as performers and more importantly as human beings! Tacoma Little Theatre's mission is to enrich our community by creating quality live theatre experiences. Tacoma Little Theatre is a successful volunteer community theatre employing professional standards of excellence. We produce a varied six play main stage season and offer year-round educational programs for adults and youth. We are managed by a small professional staff and a volunteer Board of Directors.












Chocolate & Vanilla Shakes - Lean Protein Weight Loss Formula - Healthy Aging Diet's Lean Protein Weight Loss Formula is a powdered nutritional beverage that provides both macro and micronutrients for individuals who want to improve body composition and lose or maintain weight. Features specialty nutrients to help promote blood sugar control and efficient fat metabolism.
High-quality whey protein base, 100% casein free.
Assists in healthy blood sugar metabolism and available in chocolate & vanilla.
Each serving provides a multivitamin and mineral core, plus a high dose of chromuim, phaseolamin, guar gum, and green tea extract.
For more information call 253-858-2408 or visit us online, watch our videos, and read our testimonials.












Sewer Line Experts - Trenchless Plumbing & Pipe Bursting Tacoma - Here in the Pacific Northwest, a land of settling earth, healthy trees with strong roots, and old crumbling concrete pipes, it's quite common to have sewer lines filled with invasive roots. Once roots get into your sewer line the problem only worsens. Pielak Plumbing has several solutions for you. They can de-root your system, they can send a video camera down your pipes to inspect the problem, and they can replace your complete sewer line with trenchless plumbing and pipe bursting. Give them a call today at 253-227-0084 for details and estimates. Visit Pielak Plumbing for more information and a step-by-step video showing you how the process works.












Construction Debris and Recycling - Dumpster Rentals - SW Washington - Our business is picking up. We are a full service recycling company, providing services throughout the South Puget Sound region, including the cities of Aberdeen, Olympia, and Centralia. We can help you in Grays Harbor, Lewis, and Thurston counties as well as other areas of the South Puget Sound. Contact Us for immediately help: 360-280-7305.












Chocolate Yellow Silver Black Labrador Puppies For Sale - Wake and Cassie Barney love their family of dogs. The dogs and puppies are part of the family. They breed their dogs and pass them along to happy families in Washington State. Take a look at their Puppy Gallery. Owners are always happy to share photographs of the new members of their own families.












Healthy Aging Diet Control Weight Loss Tacoma - Need to control your diet, lose some weight, or just feel better so you can live longer? They can help you and your body. Healthy Aging Body even offers Free Consultations!












PNW Video Production - For over thirty years, the most effective AND affordable choice for video production in the Pacific Northwest. From Group Health, Washington Aggregate and Concrete Association, Asarco, Tacoma Pierce County Health Department, Land Surveyors' Association of Washington, and beyond.


The ideal video production company for construction videos & video manuals for work done at Joint Base Lewis McChord. They produce Youtube videos for small business as well. Distribution via online, DVD, or thumb drive.


















Northwest Adventures and Vacation BLOG by authors Don and Peggy Doman - The Pacific Northwest is a great place to spend a vacation. If you only have a couple of days and are looking for a short adventure, then we have many suggestions. We write about our own adventures to Northwest cities like: Tacoma, Seattle, Mukilteo, Victoria and Portland. We stay at hotels or bed & breakfasts. We visit museums, restaurants, and fun places to shop and look around.
















Puyallup Business Directory Questions